Live production demands error free operation and the features you need for incredible production values. ATEM switchers include powerful creative tools such as DVE, upstream keyers, media pool, Photoshop™ plug in, preview transition and more! With ATEM you get the features you need for an incredible live production that will amaze your audience!.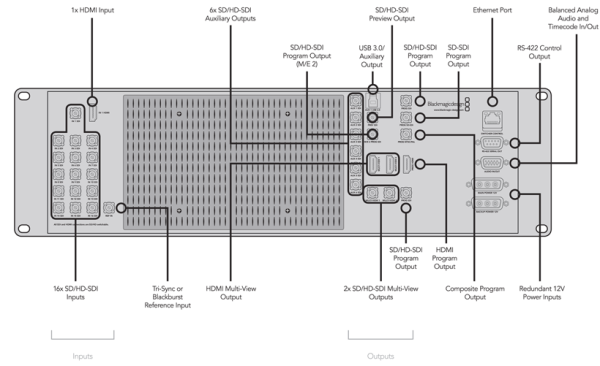 ATEM 2 M/E Production Switcher
ATEM 2 M/E Production Switcher is perfect for when you're working on serious live production. It includes all the features of the 1 M/E model in a compact 3 RU size. You also get 16 simultaneous inputs, SuperSource multi layering compositing engine, 2 multi view outputs, second M/E row, and a total of 6 Aux. outputs. The ATEM 2 M/E Production Switcher also includes a software control panel, or you can purchase a dedicated 1 M/E or 2 M/E control panel for the ultimate solution that's traditional and easy to use in any live event!
New Software Control! (Included)
For the ultimate in portability, every ATEM production switcher includes beautifully designed control panel software for Mac and Windows, so you can even use your switcher from your laptop! ATEM software control provides a professional M/E workflow control panel with parameter adjustments in simple to use palettes. You can manage the switcher media pool and set all adjustments, and switcher control includes full keyboard shortcuts! Only ATEM lets you start at a lower cost because you're not forced to buy a hardware control panel!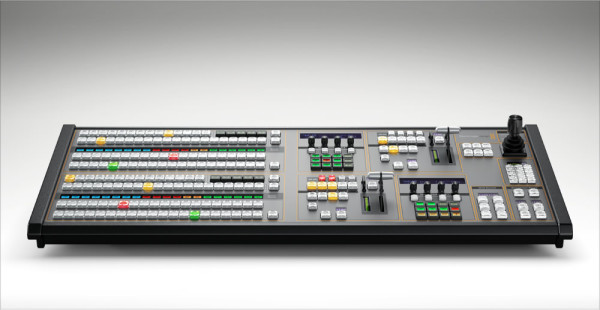 ATEM 2 M/E Broadcast Panel (Optional)
The incredible ATEM 2 M/E Broadcast Panel has the power for the most complex live broadcast events and it's perfect when you have the space for a large panel and need all the control at your fingertips. The ATEM 2 M/E Broadcast Panel features an amazing design that not only looks incredible, but perfectly positions all controls just where you need them for the ultimate creativity on complex multi layer live production. The ATEM 2 M/E Broadcast Panel connects via ethernet and includes loop thru for your media management computer.