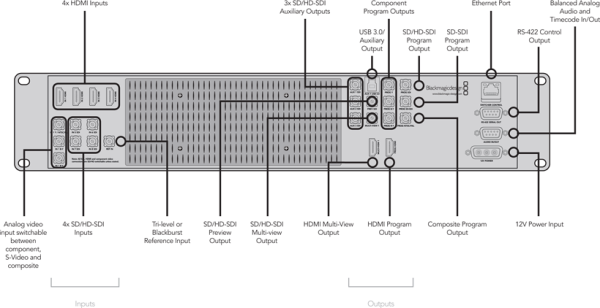 ATEM 1 M/E Production Switcher
Get the workflow of a traditional 1 M/E SDI switcher combined with a very portable compact 2 RU size and a software control panel you can run on your laptop! Includes 4 SDI inputs, 4 HDMI inputs for consumer cameras or computers, analog input, and SDI, HDMI and analog outputs including down converted SDI output and USB 3.0! You even get a complete frame resynchronizer on every input! You also get professional features such as stinger and DVE transitions, 6 keyers, multi view, built in media players and more!

New Software Control! (Included)
For the ultimate in portability, every ATEM production switcher includes beautifully designed control panel software for Mac and Windows, so you can even use your switcher from your laptop! ATEM software control provides a professional M/E workflow control panel with parameter adjustments in simple to use palettes. You can manage the switcher media pool and set all adjustments, and switcher control includes full keyboard shortcuts! Only ATEM lets you start at a lower cost because you're not forced to buy a hardware control panel!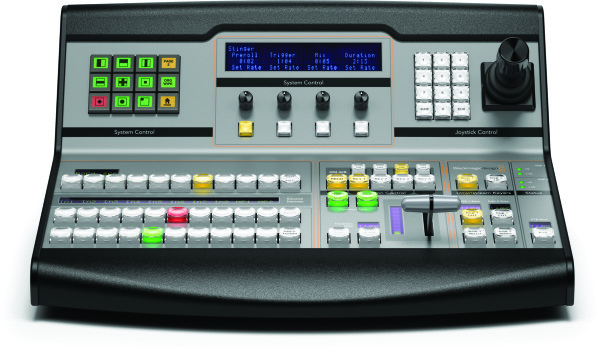 ATEM 1 M/E Broadcast Panel (Optional)
When the software control panel is too limited, the ATEM 1 M/E Broadcast Panel is a professional panel with the highest quality buttons, knobs and controls for the most demanding 24/7 live production environment. The ATEM 1 M/E Broadcast Panel is compact so it fits within a rack width! You get full control of your switcher, including cameras, transitions, keyers, fader, DVE control and more. ATEM 1 M/E Broadcast Panel connects via ethernet and includes a loop thru connection for more than one panel or computer.